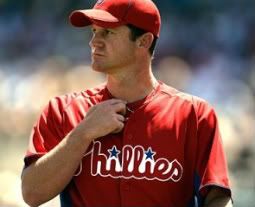 The Phillies will soon see the return of Roy Oswalt who has been on the disabled list with back problems. As we all know, Oswalt was one of the big four that was on everyone's lips before the season started. And while Halladay, Hamels and Lee have given the Phillies everything those pre-season raves predicted, Roy Oswalt lagged behind and was surprisingly ineffective before and during his injury. Since then Vance Worley has taken the world by storm and Kyle Kendrick has been great in the rotation. So who needs Oswalt and why upset the applecart?
Big four or not, every rotation needs five starters. And Worley isn't going anywhere. His record, poise, increased durability and sparkling 1.099 WHIP are going to have to take deep hits before anyone is going to pry Worley out of that rotation any time soon. So the basic question is whether you want Roy Oswalt or Kyle Kendrick. If the question is posed that way, the easy answer is that you want Oswalt.
But Kendrick has a 3.19 ERA and pitched eight shutout innings against the Rockies the other day…in Colorado no less. Kendrick's WHIP is better than Oswalt. Kendrick is 6-5 compared to Roy Oswalt's 4-6. Oswalt's ERA is sixty points higher than Kendrick's.  But here's the thing. Kendrick's success is a bit of a mirage. Although Kendrick did strike out seven batters in his last outing, he's only averaging 4.02 strikeouts per nine innings. If Kendrick had enough innings in as a starter, that would rank in the bottom five of that category. BABIP also shows that Kyle Kendrick has been lucky with a .261 in that category. His strand rate of 76.9 percent is also unsustainable. If you look at Kendrick's FIP, he is more of a 4.52 pitcher and that numbers is much more reliable from his track record.
Granted, Roy Oswalt isn't striking out batters at the same rate as he has historically. His current 5.30 K/9 is the lowest of his career. But again, let's get down to the skinny here. Roy Oswalt has won 154 games in his career with an impressive .634 winning percentage.  He is only 33 years old, so it's not like he's washed up or something. Yes, his back is a concern. As someone who has dealt with back troubles, you always have to be concerned. But if Oswalt is anywhere near healthy, he has a body of work that is simply too impressive to give up.
And here is the bottom line: Roy Oswalt is 5-1 in post season appearances with a good body of work and experience there. He arguably was the Phillies' most impressive starter against the Giants in that major battle last fall. Kyle Kendrick has made one post season appearance ever and he was lit up in that one appearance.
Roy Oswalt's career numbers are no fluke. He has been one of the best pitchers of his generation. Kyle Kendrick's season is a bit of a fluke. That's not to flog Kendrick for the aid he has provided to the Phillies during Oswalt's absence. Give the guy the credit he is due. But based on pure stuff and experience, you have to go with Oswalt. Keep an eye on him because of his balky back and keep Kendrick on a throwing schedule just in case. But Oswalt is the easy pick and his return to the Phillies should be viewed positively. There's no reason to believe Oswalt can't pull off another streak like he did last year once he was traded to the Phillies. And good golly, he's making big money. You have to give him the ball.
-William J. Tasker, a/k/a The Flagrant Fan, a knowledgeable and passionate baseball fan that can be followed on twitter and found writing daily at his blog
Filed under: Digging Deep - Analysis Tagged: | Kyle Kendrick, Philadelphia Phillies, Roy Oswalt, Vance Worley