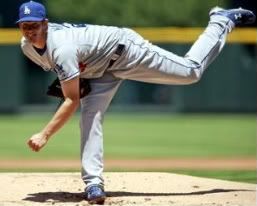 When debate over the Cy Young Award arises it is usually in the context of the tight race in the American League. And why not? It is a great race over there. If you were to bring up the National League race, though, most people would cite the name Roy Halladay and there would be little-to-no argument against it. And, yes, Halladay is the clear favorite at this point, leading the league in almost every pitching stat imaginable but there is this kid in Los Angeles that is having quite an amazing season.
Clayton Kershaw is a mere 23 years old. I had to take a second look at that when I read it. He is already in his fourth Major League season and had back-to-back sub-3 ERA seasons and more than a strike out per innings at the age of 21 and 22. This year, though, he is having his best year ever and it is sadly overshadowed by the dark cloud of divorce and financial worries hovering over the Dodgers.
Kershaw, like Halladay, is near the top of almost every pitching category, and even leads a few. Check out his stats and seasonal rankings:
| | | |
| --- | --- | --- |
|  Stat |  Total |  NL Rank |
|  IP |  161.1 |  2nd |
|  ERA |  2.68 |  6th |
|  FIP |  2.51 |  3rd |
|  xFIP |  2.71 |  3rd |
|  SIERA |  2.66 |  2nd |
|  HR/9 |  0.61 |  16th |
|  K/9 |  9.87 |  1st |
|  K |  177 |  1st |
|  CG |  4 |  2nd |
|  SHO |  2 |  2nd |
|  rWAR |  4.3 |  3rd |
|  fWAR |  4.7 |  2nd |
Kershaw's fastball value (wFB) is 11.8 which is 7th in the National League and he couples it with his slider which is valued (wSL) at 21.2, tops in the NL. Kershaw has also set a person record with a 2.34 BB/9, which is 17th in the NL, after posting BB/9 of 4.35, 4.79, and 3.57 the first three years of his career. His 177 strikeouts are 25 more than Halladay and in exactly one less inning pitched and three fewer batters faced.
At the tender age of 23, when most players are struggling in AAA or their first taste of the Majors, already has a career 3.05 ERA and 3.12 FIP in 644.1 innings with an unheard of 9.41 K/9 as a starter. Only Tim Lincecum, Kerry Wood, Mark Prior, and Hideo Nomo can claim a K/9 greater than 9.0 and at least 600 innings in their first four seasons. He has become not only a work horse starter after pitching 204.1 innings last year and having the 2nd highest inning total this year, but he is a true ace that pitches like a 30 year old veteran.
When hearing people compare Tampa Bay Rays pitching prospect Matt Moore to Kershaw I always thought that was a good comp; Moore is that talented. But after taking a deeper look at the numbers and how young Kershaw is I believe that is an incredibly unfair comparison to make on Moore who, by the way, is only one year younger than Kershaw. Yes, Moore is the best pitching prospect in the game, hands down, but Kershaw is a 23 year old that, baring injuries, is well on his way towards a Hall of Fame career.
-Jonathan C. Mitchell can be found writing about the Tampa Bay Rays at DRaysBay and you can follow him on twitter at @FigureFilbert and follow MLBdirt at @MLBdirt
Filed under: Digging Deep - Analysis Tagged: | Clayton Kershaw, Cy Young Award, Hideo Nomo, Kerry Wood, Los Angeles Dodgers, Mark Prior, Matt Moore, Roy Halladay, Tampa Bay Rays, Tim Lincecum