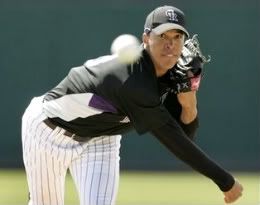 The trade deadline has come and gone and it may take years to figure out who the actual "losers" are from this deadline. But, we can give a pretty clear answer as to who the winners were, especially if we are grading them on 2011 contention, which is part of the grading scale. With that, here are my top two trade deadline winners.
Cleveland Indians: The Indians did not look like a team going to the playoffs before the deadline passed. With the deadline gone they added the best pitcher on the market in Ubaldo Jimenez and they not only get him for the 2011 stretch run but they get him for the three years after for only $17.95M. Sure, they gave up Drew Pomeranz, Alex White, Joe Gardner, and Matt McBride, but none of them made my mid-season top 25 (although Pomeranz was on a lot of mid-season top 25 lists) and Pomeranz was 64th on my pre-season top 175 White was 100th.
Cleveland also got rid of Orlando Cabrera and actually got a serviceable prospect in Thomas Neal from the Giants. Cabrera was having his worst season ever with -0.7 fWAR, .275 OBP, and -7.2 UZR. Cabrera should've been cut but they got a potentially good 4th outfielder in Neal for a player that actually cost the team wins. This allows them to play Jason Kipnis who should be worth at least a win over the negative value Cabrera brought. Let's not forget that Cleveland also got Kosuke Fukudome earlier in the deadline week for organizational pieces.
Atlanta Braves: By getting Michael Bourn from the Houston Astros, the Braves did two things that they desperately needed to do: add a center fielder and add a top of the order bat. Check and check. Bourn is a plus defender in center and his .363 OBP and steals at the top of the order are a far cry from what the Braves have been getting from that lineup spot. On top of being a good defender, good base stealer, and getting on base at a good clip, he is also on of the best base runners in the game (different than stealing bases) with a Bsr of +5.6.
There were talks of the Braves going after corner outfielders with better bats but that would have been a disservice to the team who already has two good corner outfielders and desperately needed a center fielder. Now we can, hopefully, stop hearing about Jason Heyward being demoted. They did give up bulk in prospects but nothing of significant value and held on to their top prospects. Not a bad move for Bourn who also has another year of control left.
***********************Other Winners***********************
The Philadelphia Phillies were also winners by adding Hunter Pence to an already stellar team. His plus right-handed bat fits perfectly in that lineup and he should help push the Phillies over the top. This move was clearly one to make them better for the postseason and for future seasons. They did give up high reward prospects but still held onto Domonic Brown.
The Texas Rangers filled a major need by adding Koji Uehara and Mike Adams to a bullpen that really had no one outside of Neftali Feliz. The Rangers did not get rid of anyone that was part of their plans for the next year or so and gained pitching combo that has a combined 111/17 K/BB in 95 innings with a 1.42 ERA.
On the flip of the Rangers deal, the San Diego Padres received two prospects that I like a lot in Robbie Erlin and Joe Wieland. Both pitchers pound the zone and will love pitching in PETCO park soon. Erlin is only 20 and has a 123/12 K/BB in 121.1 innings and is already in AA. He is not overpowering but has great control and mixes his pitches really well. Wieland has seen increased velocity to go with his good control and has a 132/15 K/BB in 129.2 innings and is 21 and in AA. Both pitchers can be flyball prone so PETCO is the right place for them.
The Pittsburgh Pirates did not add any real impact players but the players they did add are better than what they currently were trotting out on the field. Ryan Ludwick and Derrek Lee both offer upgrades and the Pirates did not give up much for them unless the PTBNL turns out to be significant but I highly doubt it.
The Detroit Tigers added a very underrated starter in Doug Fister who is an immediate upgrade over their current 4th and 5th starters. They gave up some low-level talent and a good 4th outfielder in Casper Wells but that is a decent price for a guy with a 3.33 ERA and 3.24 FIP. Fister may miss the Seattle defense but he will love the Detroit offense.
The Seattle Mariners added a bunch of depth and sold off Fister and Erik Bedard, which is fine because Seattle has no problem developing pitching and has a wave of arms almost ready to contribute from with in. Adding Trayvon Robinson and Francisco Martinez to a farm system desperate for bats was huge for the Mariners and Robinson, who has great raw power and will be a great defender, could be their starting left fielder next year.
Lastly, I love what the Baltimore Orioles did at the deadline. They did give up a very good reliever in Uehara but they are not contending this year and next year is a building block year for thier real contention run starting in 2013. Aaron Baker is not much of a prospect but they cleared themselves of Derrek Lee. Tommy Hunter is a serviceable swing man or 5th starter and I absolutely love Chris Davis, always have. He has so much raw power and needs to play everyday in the majors to see if he belongs. He can pass as a third basemen but is better served at first. He was hitting .368/.405/.824 with 24 homeruns in 193 AAA at-bats before being called up just over a week ago. He's done proving it in the minors and the Orioles could have themselves a legit 35 homer guy but I would like to see him show a little more plate discipline.
-Jonathan C. Mitchell can be found writing about the Tampa Bay Rays at DRaysBay and you can follow him on twitter at @FigureFilbert and follow MLBdirt at @MLBdirt
Filed under: Digging Deep - Analysis Tagged: | Alex White, Atlanta Braves, Casper Wells, Cleveland Indians, Colorado Rockies, Derrek Lee, Detroit Tigers, Domonic Brown, Doug Fister, Drew Pomeranz, Erik Bedard, Francisco Martinez, Hunter Pence, Jason Heyward, Jason Kipnis, Joe Gardner, Joe Wieland, Koji Uehara, Kosuke Fukudome, Matt McBride, Michael Bourn, Mike Adams, Neftali Feliz, Orlando Cabrera, Philadelphia Phillies, Pittsburgh Pirates, Prospects, Robbie Erlin, Ryan Ludwick, San Diego Padres, San Francisco Giants, Seattle Mariners, Texas Rangers, Thomas Neal, Trades, Trayvon Robinson, Ubaldo Jimenez