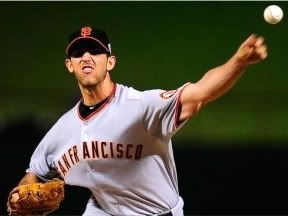 After looking through the box scores from last night's game I couldn't help but resurface the feelings I have for wins and losses for a pitcher. I hate the win-loss stat. I really do. It rarely, if ever, tells the true story of how a pitcher has performed in a given year and it can be very misleading in a career, just ask Bert Blylevan. Here is a table of 12 pitchers who have out-performed their current win-loss record.
These dozen pitchers have a combined 58-108 record for with a combined 3.49 ERA over 1540.2 innings. They have been worth a combined 25.8 fWAR yet only have a .349 winning percentage. No pitcher in the history of the game has had a winning percentage that low with at least 1500 innings pitched. In fact, the most innings pitched with a percentage that low is by Buster Brown who pitched 1451.2 innings from 1905-1913. The innings and ERA almost mimic that of Jake Peavy, who has a 3.44 ERA in 1536.1 innings but has a 106-78 record for a winning percentage of .576 and 29.8 fWAR. Now, let's take a look at 12 starters who have under-performed their win-loss record:
And these dozen pitchers have a combined 108-74 record with a combined 4.60 ERA in 1433.1 innings. The record is almost identical to the above mentioned Peavy but the ERA is 1.16 runs higher. Dick Coffman is the best comparable pitcher with a career 4.65 ERA in 1460.1 innings but had a 72-95 record. Theses 12 starters have been worth 11.5 fWAR and have a winning percentage of .593 which is right in line with future Hall-of-Famer Curt Schilling and borderline candidate Kevin Brown.
The first group suggests Buster Brown has been pitching when in fact they have been pitching more like Jake Peavy has throughout his career and the second group suggests Curt Schilling or Kevin Brown have been dominating the league when Dick Coffman is more like the pitcher they have been. Now do you see why I hate win-loss records for pitchers?
-Jonathan C. Mitchell can be found writing about the Tampa Bay Rays at DRaysBay and you can follow him on twitter at @FigureFilbert and follow MLBdirt at @MLBdirt
Filed under: Digging Deep - Analysis Tagged: | Bert Blylevan, Brad Penny, Bud Norris, Buster Brown, Carlos Zambrano, Curt Schilling, Derek Holland, Dick Coffman, Doug Fister, Dustin Moseley, Ervin Santana, Hiroki Kuroda, Jake Arrieta, Jake Peavy, Jake Westbrook, Jordan Zimmermann, Josh Tomlin, Kevin Brown, Kevin Correia, Kyle McClellan, Madison Bumgarner, Mat Latos, Matt Garza, Max Scherzer, Paul Maholm, R.A. Dickey, Rick Porcello, Wade Davis