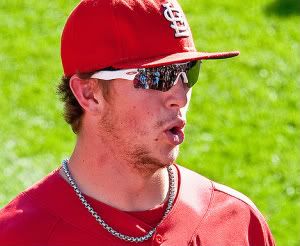 In case you missed it, the Chicago White Sox traded Edwin Jackson and Mark Teahen to the Toronto Blue Jays for Jason Frasor and top prospect Zach Stewart. The Blue Jays then flipped Jackson, Marc Rzepczynski, Octavio Dotel, Corey Patterson, and three PTBNL or cash for Colby Rasmus, Trever Miller, Brian Tallet, and P.J. Walters. In short, the Cardinals are dumb, the Blue Jays are smart, and the White Sox did well.
Blue Jays GM Alex Anthopoulos looks like a genius yet again, nabbing the one potential star in Colby Rasmus who will slot right in to center and should be an ideal two-hole hitter in 2012. Rasmus has had his issues in St. Louis but he is also a guy who had a .366 wOBA and was worth 4.3 fWAR as a 23 year old last year. He has potential to put up 25+ homers and steal 15+ bases with a .375 OBP as a center fielder. That is a star. AA nabbed Yunel Escobar last year and Rasmus this year for spare parts.
The Blue Jays are forming a 2012 lineup that could very well be the best in the entire league. Here is a look at what it could look like if they just insert guys that are under control through next year:
1. Yunel Escobar (SS)
2. Colby Rasmus (CF)
3. Jose Bautista (RF)
4. Adam Lind (1B)
5. Brett Lawrie (3B)
6. Travis Snider (LF)
7. David Cooper/Edwin Encarnacion (DH)
8. J.P. Arencibia (C)
9. Aaron Hill (2B)
Scary! And that is just the internal options and leaving a bench that has Rajai Davis and Eric Thames on it. It is also very likely that Hill's option for $8M and Encarnacion's $3.5M will not be picked up. After four straight years of slashing payroll (going from $98M-to-$80.5M-to-$78.7M-to-$70.5M) and they could very well add a huge chuck back next year. If they do, and Jays fans would love if they did, here is what I think they lineup could look like:
1. Yunel Escobar (SS)
2. Colby Rasmus (CF)
3. Jose Bautista (RF)
4. Prince Fielder (1B/DH)
5. Adam Lind (1B/DH)
6. Brett Lawrie (3B)
7. Travis Snider (LF)
8. J.P. Arencibia (C)
9. Jamey Carroll (2B)
Prince would be a pipe dream, but it could happen. Carroll would not be expensive and he is way undervalued with a .362 OBP the past four seasons and is a very good defender. Kelly Johnson is another guy that would make this offense so much better and he is a plus defender at 2B. He and Fielder would be best case scenario.
Sure, there are pitching staff holes that need to be filled but could you imagine a lineup like this? The Blue Jays could score 1,000 runs with this lineup and the defense up the middle would be above-average. Needless to say, if the Jays open up the pocket books or trade some prospects (they could end up with the 2nd best farm system after signing their draft picks) they could very well be serious contenders in the 2012 AL East.
-Jonathan C. Mitchell can be found writing about the Tampa Bay Rays at DRaysBay and you can follow him on twitter at @FigureFilbert and follow MLBdirt at @MLBdirt
Filed under: Digging Deep - Analysis Tagged: | Brian Tallet, Chicago White Sox, Colby Rasmus, Corey Patterson, Edwin Jackson, Eric Thames, Jason Frasor, Marc Rzepczynski, Mark Teahen, Octavio Dotel, P.J. Walters, Rajai Davis, St. Louis Cardinals, Trever Miller, Zach Stewart