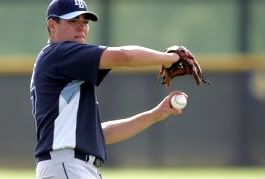 Like Mikey's top 25 from yesterday, I will only include players that I believe will still hold prospect status at the end of the year and no recent draftees. That means no Mike Trout or Gerrit Cole on my list. Here are my current top 25 prospects:
The biggest jumps from my pre season top 175 list were Taijuan Walker (152nd), Tyler Skaggs (83rd), Jurickson Profar (78th), and Hak-Ju Lee (74th). Most people would have Carlos Martinez as their highest jumping prospect but he was 48th on my pre season list and I am not surprised to see him 7th right now.
There are a few guys that just missed the cut and would have been in my next group. Gary Brown is having an amazing season but I would like to see what he can do in AA before he makes that big of a jump on my board. Jarred Cosart was on the bubble for me. I really like his stuff but the numbers have not matched the stuff to date. His command is average at best and he needs to stay healthy. Jake Odorizzi also just missed my list. I love his feel for pitching and matching it with his stuff makes him a potential #2 starter. Robbie Erlin is another that has fantastic numbers. He is 20 and has a 48/6 K/BB ratio in 48.2 AA innings.
I love Jason Kipnis but his mediocre defense kept him out of my top 25. He very well may be my #26 guy, though, because the bat is very legit. Brett Jackson also missed the cut but I absolutely love the tools. He can play center and could be a 20/20 guy in the Majors very soon. One last guy that I absolutely love is Oswaldo Arcia. He has an outside shot at cracking my top 25 for next year if he can prove the shoulder issues are behind him and he keeps raking like he is.
-Jonathan C. Mitchell can be found writing about the Tampa Bay Rays at DRaysBay and you can follow him on twitter at @FigureFilbert and follow MLBdirt at @MLBdirt
Filed under: On the Farm - Prospects Tagged: | Aaron Hicks, Brett Jackson, Brett Lawrie, Bryce Harper, Carlos Martinez, Desmond Jennings, Devin Mesoraco, Gary Brown, Gerrit Cole, Hak-Ju Lee, Jacob Turner, Jake Odorizzi, Jameson Taillon, Jason Kipnis, Jesus Montero, Julio Teheran, Jurickson Profar, Leonys Martin, Manny Banuelos, Manny Machado, Martin Perez, Matt Moore, Miguel Sano, Mike Trout, Oswaldo Arcia, Prospects, Robbie Erlin, Shelby Miller, Taijuan Walker, Travis d'Arnaud, Tyler Skaggs, Wil Myers