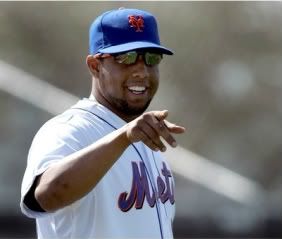 The Milwaukee Brewers have struck a deal with the New York Mets that will land them reliever Francisco Rodriguez and cash in exchange for two PTBNL (players to be named later). The amount of money has not yet been announced but they are on the hook for at least $3.5M (his buyout cost) and possibly $17.5M if he reaches 55 games finished. He was well on his way to reaching that goal but that does not seem likely any more since John Axford will still be closing games.
To pay a reliever at least $3.5M for two and a half months of service, or roughly 30 innings of work, is a bit of a waste of cash unless you have an abundance. The Brewers may have the cash to be able to eat that but what they do not have and cannot afford to give up are prospects. If either of the PTBNL are Tyler Thornburg, whom Keith Law had at 92-94 at the Futures Games and said could step in a be a late-inning reliever now, Kentrail Davis, Wily Peralta, Cody Scarpetta, or pretty much anyone who projects as at least a reliever or 4th out fielder, then the price they paid for K-Rod was way steeper than the $3.5M they already have to pay him.
The crazy part is that in most organizations those named prospects may not even be in a top 10-15 but the Brewers' system is so bare that these guys really need to be held on to unless they are getting a player back that can actually be worth more than roughly half a win the rest of the way. The Brewers should have spent their resources on either improving their offense or their defense, or both. Yes, they already have a very good offense but the rotation has actually been a bit unlucky (4.14 ERA but a 3.49 xFIP) and there is room for improvement that should fix itself, especially if defense is added to this team and I do not think the rotation should be touched.
Yes, the Brewers need some bullpen help but not at the cost of at least $3.5M and two prospects. If they thought it wise to give up two of their prospects and pay at least $3.5M to improve this team then they would have been better suited going after J.J. Hardy or Michael Bourn since they have a shortstop named Yuniesky Betancourt who has a -0.8 fWAR, .255 on-base percentage, and -9.4 UZR and a center fielder named Carlos Gomez who has a .273 on-base percentage and should be relegated to pinch-running and defensive replacement.
The New York Mets must feel so relieved to be out from under that contract and actually get two prospects in return. Congrats on one organization-made hole dug out from among many still left to escape from.
-Jonathan C. Mitchell can be found writing about the Tampa Bay Rays at DRaysBay and you can follow him on twitter at @FigureFilbert and follow MLBdirt at @MLBdirt
Filed under: Digging Deep - Analysis Tagged: | Carlos Gomez, Cody Scarpetta, Francisco Rodriguez, J.J. Hardy, John Axford, Kentrail Davis, Michael Bourn, Milwaukee Brewers, New York Mets, Trades, Tyler Thornburg, Wily Peralta, Yuniesky Betancourt