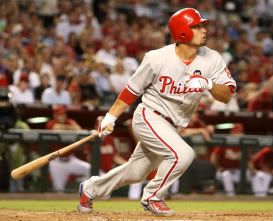 National League
Shane Victorino (PHI) – Snubbed from the "real" roster, The Flyin' Hawaiian has the 3rd best fWAR among NL out fielders (+4.4) and has been above-average in ever aspect of the game. He is hitting .303/.376/.524 with a .399 wOBA and 153 wRC+. He has 9 homeruns, 14 doubles, 9 triples, and 13 stolen bases to go with his +8.0 UZR and +2.6 Bsr. He is setting career high rate marks across the board and is on pace to set career highs in some counting stats. He could easily have been starting this game if it were based on stats and not a fan vote.
Justin Upton (ARI) – My third Arizona Diamondback to be selected to the All-Star game in Arizona. He is quietly having an amazing season and currently hitting .299/.381/.512 with a .390 wOBA which includes 14 homeruns, 22 doubles, 3 triples, and 14 stolen bases while posting slightly above-average defense (+0.8 UZR) and base running (+0.7 Bsr) totals. All of this has helped him be worth +3.2 fWAR and put him well on his way towards a career best mark.
Lance Berkman (STL) – He leads all out fielders in homeruns (23) and SLUG (.612) and is 2nd in OBP (.406), wOBA (.423), and wRC+ (174). His overall triple-slash line is .294/.406/.612 and he his .318 ISO is easily the best among the group. He only ranks 8th in fWAR (+2.9) but, believe it or not, he has been a bit unlucky on balls in play with a BABIP of .274. He is a good base runner (+1.1 Bsr) and belongs on this team.
Hunter Pence (HOU) – Someone has to represent the Houston Astros, right? Pence is the man for the job and since I only carried two third basemen to the game I have room for him as my last out fielder. The defense and base running could use a boost but he is hitting and All-Star-esque .327/.369/.502 with a .382 wOBA and 145 wRC+. His offense is what gave him the nudge over Michael Bourn who actually had a better fWAR.
American League
Jacoby Ellsbury (BOS) – He ranks 3rd among AL out fielders in fWAR (4.0) and leads them all in stolen bases (27). He has been outstanding in the field with a +8.0 UZR. On top of that he is hitting .306/.366/.459 with a wOBA of .370 and wRC+ of 131. In hindsight he probably should have been on my starting roster over Matthew Joyce but he makes the team either way.
Alex Gordon (KC) – I already profiled him as the Royals lone representative and it still holds true. He is 5th in the AL among out fielders with 3.0 fWAR and is hitting .293/.362/.479 with a UZR of +2.5 and Bsr of +3.4.
The Last AL Outfield Spot – Thanks to the DH there was already one position spot short so, naturally, I will have one less reliever on my squad. But I was still one spot short because I gave one to Mark Teixeira and I do not regret it because he deserves to be on the team. Besides, my roster has Ben Zobrist and Howie Kendrick who are both more than capable of playing the outfield if need be.
-Jonathan C. Mitchell can be found writing about the Tampa Bay Rays at DRaysBay and you can follow him on twitter at @FigureFilbert and follow MLBdirt at @MLBdirt
Filed under: Digging Deep - Analysis Tagged: | Alex Gordon, All-Star Game, Ben Zobrist, Howie Kendrick, Hunter Pence, Jacoby Ellsbury, Justin Upton, Lance Berkman, Mark Teixeira, Matt Joyce, Michael Bourn, Shane Victorino