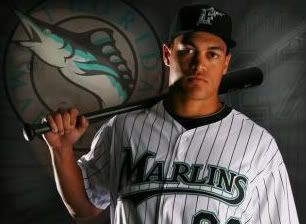 First off, I love the idea of the new homerun derby format. For those of you that don't know, a captain was selected from both the NL and AL and they will each chose three other players from their own league. Representing the NL is Prince Fielder, the 2009 derby champ, and representing the ALis David Ortiz, the reining homerun derby champ. Another great part of the new format is that the contestants do not need to be on the All-Star team. The derby will be taking place on July 11th at Chase Field, home of the Arizona Diamondbacks. So just who would I pick if I was each player?
AL:
Jose Bautista: Bautista is leading all of baseball in homeruns with 26. He is smashing the ball lately and the very short porch in left field at Chase Field will help Bautista a lot. Bautista's average true distance on his homeruns this year is 398.4 which is 4 feet further than the MLB average. As I mentioned above, Bautista will really benefit from the left field dimensions. Chase Field is 328 down the line in left, and if you take a look at Bautista's homerun spray chart, 21 of his homeruns have been hit to left. Not only do I think Bautista needs to be in the derby, but I think he has a very good chance at winning it.
Nelson Cruz: Cruz might be one of the best power hitters in the league. He ranks 8th in the bigs in homerun with 19 and he has done so in about 75 plate appearances less compared to a lot of the batters ahead of him. His average true homerun distance is a ridiculous 415.3 ft which is amongst the best in the league. He also has experience in the contest as he finished second to Prince Fielder in the 2009 derby.
Mark Teixeira: I had a hard time on this one picking between Teixeira and Paul Konerko. Teixeira is second in the majors in homeruns with 25, just one short of Bautista, and he has a very impressive ISO of .294 which is .44 points better than that of Konerko. Teixeira has the option to hit either left handed or right handed and both fences are very short. Taking a look at his spray chart, all of his homeruns are down the line; not a single homerun has gone to center field. His ability to pull the ball well will really help him.
NL
Matt Kemp: Kemp is currently the NL leader in homeruns with 22. He is really hitting the ball well and he has an average homerun distance of 411.4. I also think that Kemp is in great shape for the competition. I think he will be able to stay consistent and not burn out too soon. Kemp also has a very good ISO of .290.
Ryan Howard: Howard might be one of the most experienced in the game in this competition which is why I think he is a great pick. He knows how to pace himself while putting on a great show. He has 17 homeruns with an average true homerun distance of 403.1. While Howard's power numbers are not up to par with some of the top sluggers this year, Howard is still hitting well and his experience is what really makes him a good pick for the derby
Mike Stanton: This might be my favorite pick of the whole derby. I thinkStanton is one of the best power hitters in the game and he is only 21. He has 16 homeruns this year and one of the best average true homerun distances in the league with 414.2. He is a beast and has big time power. Players talk about him smashing balls in batting practice to the upper decks over and over again and I think he will really put on a show at the derby. If he is on the team, he is my sleeper pick.
Filed under: Digging Deep - Analysis Tagged: | All-Star Game, David Ortiz, Home Run Derby, Homerun Derby, Jose Bautista, Mark Teixeira, Matt Kemp, Mike Stanton, Nelson Cruz, Paul Konerko, Prince Fielder, Ryan Howard