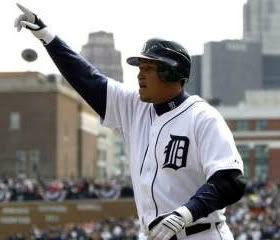 Our ballots are coming together nicely and I am continuing now with my first basemen.
National League
Joey Votto (CIN) – Last year's NL MVP is having another great season hitting .319/.441/.503 with a wOBA of .411 and wRC+ of 160. His AVG and OBP both lead all NL first basemen and his wOBA and WRC+ rank 2nd. He also ranks 2nd with +3.6 fWAR, a mere 0.1 behind my starting first baseman Prince Fielder. He walks 17% of the time and fields his position very well with a +3.5 UZR. He also leads first basemen in stolen bases with 6.
Gaby Sanchez (FLA) – He just seems to fly under the radar. He is hitting .294/.370/.480 with a wOBA of .370 and wRC+ of 133 to go with his 3rd place +2.6 fWAR among first basemen. He is a solid defender with a +3.0 UZR and the best base runner among first basemen this season with a +0.6 Bsr. This spot may belong to Albert Pujols if he were not injured but Gaby is a very deserving All-Star this season.
American League
Miguel Cabrera (DET) – This was an extremely easy pick and he might be the starting first baseman in almost any other year with his numbers. He has a Bautistian .332/.453/.586 stat line and leads all AL first basemen with a .438 wOBA and 181 wRC+. His +3.6 fWAR ranks 2nd in the AL and his 62 walks easily lead all first basemen.
Paul Konerko (CHW) – While his +2.4 fWAR is not MPV-esque his triple-slash line is: .321/.393/.577. He ranks 2nd among AL first basemen in homeruns with 21 and 3rd in wOBA with .412 and wRC+ with 160. Those two stats and his entire triple-slash line are better than Teixera's but his base running has been atrocious at -6.7 Bsr.
Mark Teixeira (NYY) – The first base crop is so deep that I had to make an exception and add an extra player to the position even though it means subtracting one from another position. Tex is tied for the league lead in the AL in homeruns with 25 and carries a nice +2.3 UZR with him. He also ranks ahead of Konerko in fWAR with +2.7 and I simply had to make room for him on my roster.
-Jonathan C. Mitchell can be found writing about the Tampa Bay Rays at DRaysBay and you can follow him on twitter at @FigureFilbert and follow MLBdirt at @MLBdirt
Filed under: Digging Deep - Analysis Tagged: | Albert Pujols, All-Star Game, Gaby Sanchez, Joey Votto, Mark Teixeira, Miguel Cabrera, Paul Konerko, Prince Fielder