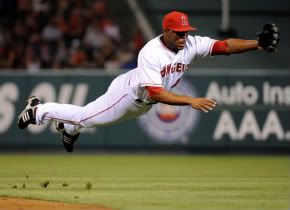 With my starting rosters already posted and my back up catchers selected yesterday, I will move on to the keystone position and, I won't lie, the American League was incredibly tough to narrow down.
National League
Danny Espinosa (WAS) – Back on June 20th I named Espinosa as my Washington Nationals representative. This still holds true, although he may not be the lone representative but that is for another post and another position. He is currently hitting .238/.323/.465 with 15 homeruns and 9 stolen bases. Add 12 doubles, 4 triples, a +4.2 UZR, the best Bsr among second basemen (+2.5), and a 3.0 fWAR, and you have a pretty easy choice for an All-Star.
Brandon Phillips (CIN) – Phillips leads all NL second basemen in UZR (+4.6) and is 2nd in base running (+2.2 Bsr). He is hitting .295/.347/.411 with 6 homeruns and 4 stolen bases. Not the power-speed combo we are used to from Phillips but the .347 OBP marks the highest of his career for any season with more than 36 plate appearances. Kelly Johnson is having a good defensive season (+3.5) and showing a good power-speed combo with 13 homeruns and 8 stolen bases but he has a .289 OBP and a -2.2 Bsr and misses the cut.
American League
Howie Kendrick (LAA) – Kendrick spent a little time on the disables list but that has not stopped him from being one of the best second basemen in the game. He is 2nd in fWAR (3.7) among second basemen and has the 2nd highest total UZR (+10.1) in the Majors. He is currently hitting .305/.362/.477 and leads all AL second basemen with a .372 wOBA and 138 wRC+. Kendrick also adds a +1.4 Bsr to his 8 homeruns, 18 doubles, 2 triples, and 8 stolen bases.
Dustin Pedroia (BOS) – In possibly the toughest decision I had to make I chose Pedroia over both Ian Kinsler and Robinson Cano. Pedroia leads all second basemen in OBP (.388), BB rate (15.7%), in UZR at second base (+9.0), and is tied for 1st in stolen bases (15). His +3.6 fWAR ranks 3rd in the AL among second basemen and sits just ahead of Kinsler's +3.4 and well ahead of Cano's +2.3. With all due respect to Cano and his 14 homeruns and .502 SLUG it was Kinsler that really made this the toughest choice. He ranks in the top three in almost every category but thanks to a weak BABIP he has a weak .243 AVG and he misses the cut in favor of Pedroia who ranks 1st in too many categories to pass up.
This does not mean that Kinsler or Cano are completely off the roster. They both have legit cases and as I research the positions further I may find room for at least one of them. Stay tuned.
-Jonathan C. Mitchell can be found writing about the Tampa Bay Rays at DRaysBay and you can follow him on twitter at @FigureFilbert and follow MLBdirt at @MLBdirt
Filed under: Digging Deep - Analysis Tagged: | All-Star Game, Brandon Phillips, Danny Espinosa, Dustin Pedroia, Howie Kendrick, Ian Kinsler, Kelly Johnson, Robinson Cano