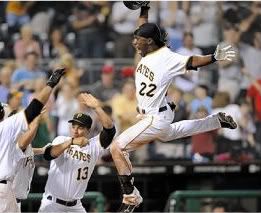 As a member of the Baseball Bloggers Alliance I have a duty to turn in at least one ballot among the four that we as a group vote on. I try to do my best to turn one in for each award, especially since I love doing these ballots anyway. With that said, here is the ballot I am turning in to the BBA for the National League All-Star starting roster:
Catcher:  Brian McCann (ATL) – His .300/.379/.512 leads all qualified NL catchers in each triple-slash category. He also leads in fWAR (2.8), homeruns (13), and has two stolen bases too boast. His defense and base running have been below average but he has more than made up for it with the bat.
First Base: Prince Fielder (MIL) – This guy is going to give Albert Pujols a run for his money this offseason for best contract. He is tied for the league lead in homeruns (21) and leads the league in ISO (.305). He is 4th in the league and 1st among first basemen in fWAR (3.9), 2nd in both in OBP (.426), and 2nd in NL and 1st among first basemen in SLUG (.611) and wOBA (.439).
Second Base: Rickie Weeks (MIL) – Weeks has been one of the best all-around players in the Majors this year. He has hit .290/.360/.498 and leads all second basemen in wOBA (.375) by a wide margin. He also leads in fWAR (3.5) and is tied for the lead in homeruns with 14. Add to that 7 stolen bases and a +1.9 UZR and you have yourself an easy choice to start the All-Star game at second base.
Third Base: Ryan Roberts (ARI) – This was the toughest choice for me. Chase Headley currently leads all third basemen in fWAR with +2.1 but Roberts is right there with him with +2.0. Headley leads all qualified third basemen in AVG, OBP, wOBA, and wRC+ but Roberts leads all in homeruns (10), stolen bases (9), SLUG (.447), and easily beats Headley in UZR (+0.7 to -2.7) and base running (+3.0 to -1.7). Placido Polanco also was a close call with +1.9 fWAR but I have to go with Roberts in the closest call on my NL ballot.
Shortstop: Jose Reyes (NYM) – I profiled Reyes here and his current line sits at an MVP-esque .341/.385/.514 with a wOBA of .399 and 28 stolen bases. He leads the NL with +4.6 fWAR. This was a much easier choice than I thought it would be.
Left Field: Ryan Braun (MIL) – Among a deep crop of NL outfielders he ranks 4th in fWAR (3.5), homeruns (16), stolen bases (17), 2nd in wOBA (.416), wRC+ (.166), Bsr (+2.9), and carries an All-Star line of .308/.390/.554. Sure, the defense is not great at -4.2 UZR but his bat and base running more than carry it.
Center Field: Andrew McCutchen (PIT) – He is the truest 5-tool player in the league. He is hitting .285/.388/.463 with a wOBA of .383 and wRC+ of 143. He has a +6.5 UZR and +0.8 Bsr. He has clubbed 10 homeruns and stolen 15 bases and has an MVP-esque +4.0 fWAR.
Right Field: Matt Kemp (LAD) – He ranks 2nd in the NL with +4.3 fWAR and became the first member of the 20/20 club this year on June 21st. Sure, has the worst UZR in the league at -8.3 and probably belongs in right field but he leads the league in wOBA (.450), wRC+ (191), SLUG (.619), and is tied for the lead in homeruns (21). He has 21 stolen bases and a .327/.416/.619 line that ranks him 2nd in OBP and AVG. He is the offensive MVP of the first half.
Starting Pitcher: Roy Halladay (PHI) – Halladay has almost an entire win over the 2nd best pitcher in the league. He ranks 1st in fWAR (4.5), innings pitched (127.1), complete games (5), BB/9 (1.13), FIP (2.16), xFIP (2.40), and he ranks 2nd in ERA (2.40) and strikeouts (123). There simply is no one better.
-Jonathan C. Mitchell can be found writing about the Tampa Bay Rays at DRaysBay and you can follow him on twitter at @FigureFilbert and follow MLBdirt at @MLBdirt
Filed under: Digging Deep - Analysis Tagged: | Albert Pujols, All-Star Game, Andrew McCutchen, Brian McCann, Chase Headley, Jose Reyes, Matt Kemp, Placido Polanco, Prince Fielder, Rickie Weeks, Roy Halladay, Ryan Braun