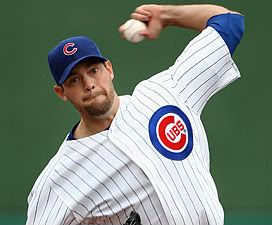 The Chicago Cubs will most likely be sending only one representative to the All-Star game on July 12th in Arizona. Who will that one representative be? After taking a long look at the roster I have it narrowed down to three choices: Matt Garza, Starlin Castro, and Sean Marshall. Here is a profile on each one's season so far:
Starlin Castro has the highest fWAR on the team among position players at 1.7 but that number ranks only 5th among NL shortstops. I was surprised to see that he had the 2nd worst UZR among NL shortstops with -5.9 because his range is well above-average. His rWAR is even worse at 0.6 and while his bat has been great this year, hitting .320/.348/.442 with a .354 wOBA, the negative defensive play may have shot his chances at an All-Star bid.
Some may discredit Matt Garza because of his 4.11 ERA but he leads all Cubs with a 2.0 fWAR on the season. Garza also ranks 2nd in the National League with a K/9 of 9.63 and he has been the victim of some bad luck with the 5th highest BABIP at .332. His FIP is a stellar 2.88 and his xFIP is also stellar at 2.90, which is 6th best in the NL. One can argue that he has been the most valuable player on the team. Unfortunately, his 2.0 fWAR ranks just 11th in the NL among a deep crop of starting pitchers.
Sean Marshall is the last player on this team that I would consider for a spot on the roster. He is tied for the 3rd highest fWAR among NL relievers with 1.0 and that number is also tied for 3rd highest on the Cubs pitching staff. Marshall has done everything well this year. He has a 2.41 ERA, 2.22 FIP, and 2.58 xFIP to go with a 9.09 K/9 and 56.8% groundball rate. He has also been a bit unlucky with a .337 BABIP.
This is a tough choice. I love Matt Garza's peripherals but the starting pitching crop is much too deep to choose him. Starlin Castro has been great with the bat but both UZR and Total Zone agree that his defense has been awful this year and we have to remember that there are two sides to the ball. This leaves me with choosing Sean Marshall. The All-Star roster is always in need of a lefty out of the bullpen that can get a strikeout or groundball and Marshall gets nothing but strikeouts and groundballs. I like to include three or less relievers on my All-Star roster and he is the 3rd most valuable reliever according to fWAR. Welcome to the 2011 All-Star roster Sean Marshall.
-Jonathan C. Mitchell can be found writing about the Tampa Bay Rays at DRaysBay and you can follow him on twitter at @FigureFilbert and follow MLBdirt at @MLBdirt
Filed under: Digging Deep - Analysis Tagged: | All-Star Game, Chicago Cubs, Matt Garza, Sean Marshall, Starlin Castro