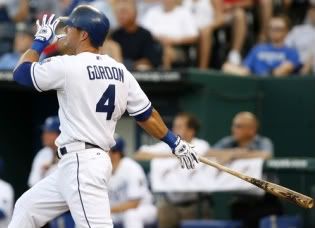 I am not going to lie, the Kansas City Royals have been a fun group to watch play baseball. They have top prospects Eric Hosmer, Mike Moustakas, Aaron Crow, and Danny Duffy already up to go with the young talent in Billy Butler and Alcides Escobar and Alex Gordon, who are establishing themselves as Big League regulars. But, with all the excitement surrounding a team of youngsters comes disappointment in the standings and hard knocks at the plate and on the mound.
As early as 2012 we could see the Kansas City Royals send multiple players to the Mid-Summer Classic annually. This year, though, they will be sending one player to the All-Star game on July 12th. That one player should be Alex Gordon and to be quite honest it isn't even a close call.
Gordon leads the Royals in fWAR with 2.3 and the next closest is Melky Cabrera at 1.7 and on the decline. Billy Butler is the best name on the team but he is a DH and although he has hit .302/.403/.443 he has only been worth 1.5 fWAR and sits in a crowded group of 1B/DH that deserve a spot over him.
The Royals pitching has been a train wreck. The team is dead last in the American League with a 4.60 ERA and dead last in the Majors with a 4.61 FIP. The best pitcher, according to fWAR, has been Jeff Francis with 1.3 but his 4.83 ERA and low 4.24 K/9 would make the All-Star roster selection a bigger joke than it already is. Aaron Crow could get an honorable mention with his work out of the bullpen. He has a 1.34 ERA and 9.09 K/9 in 33.2 innings pitched and has been worth 0.5 fWAR.
Gordon's 2.3 fWAR ties him for 7th among all AL out fielders. His 20 doubles are tied for the 4th highest mark in the entire AL. And while his production with the bat of .281/.349/.456 has been good it's his defense and base running that push him over the edge. He has a +2.6 UZR and is tied for the 2nd best BSR (base running) in the AL at +3.0.
The Royals do not have many options to honorably represent them in this year's All-Star game but, one thing is for sure, Alex Gordon has been the best Royal so far this season and deserves to represent the Royals at this year's Mid-Summer classic in Arizona.
-Jonathan C. Mitchell can be found writing about the Tampa Bay Rays at DRaysBay and you can follow him on twitter at @FigureFilbert and follow MLBdirt at @MLBdirt
Filed under: Digging Deep - Analysis Tagged: | Aaron Crow, Alex Gordon, All-Star Game, Billy Butler, Danny Duffy, Eric Hosmer, Jeff Francis, Kansas City Royals, Melky Cabrera, Mike Moustakas