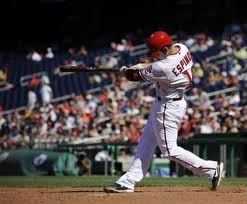 Question: Who leads all National League second basemen in fWAR? Go ahead, take a quick guess. The answer is Rickie Weeks, who should be starting at the position in the All-Star game. But the man who is second is none other than Danny Espinosa of the Washington Nationals who should be representing the Nationals in this year's Mid-Summer Classic.
Some may look at the offensive lines of the rest of the Nationals' players and suggest Michael Morse represent the team in the All-Star game but I would have to disagree with them. Sure, Morse is having a fantastic season hitting .309/.357/.564 with a wOBA of .391 but he has a -3.0 UZR and is in a deep crop of candidates to play first base in the All-Star game. Among second basemen there are only two with an fWAR above 1.8 and one is Danny Espinosa at 2.8 fWAR. There are five first basemen with an fWAR above that number and Morse is not one of them, ranking 6th at 1.6 fWAR.
Espinosa's line of .237/.321/.470 with a wOBA of .351 may not thrill a lot of people but, among National League second basemen, he ranks 2nd in Slugging percentage and is 50 points higher than Kelly Johnson who is in 3rd place, he ranks 2nd in homeruns with 13, sandwiched between Weeks and Johnson again, his 8 stolen bases are tied with Johnson for most by a second baseman, he ranks 2nd in wOBA, his wRC+ of 120 ranks 2nd, and his ISO of .233 ranks 1st. He is doing all this while having the 2nd lowest BABIP among all qualified second basemen in the NL.
While you can see the value in the homeruns and stolen bases, we seem to miss where he gets a lot his value from. He ranks 1st among all NL second basemen in UZR with +4.9 and is 1st in BSR (base running) at +2.2. There are many that believe he could slide over to shortstop with no problems once Rice star Anthony Rendon is ready to play for the Nationals. I happen to agree with them and think he should slide over there to start the 2012 season.
One could argue that Jordan Zimmerman belongs because of his All-Star caliber season and if the Nationals only have one representative in the game that he could be the one. His 2.3 fWAR ranks 7th among all NL pitchers and the All-Star teams carries more pitchers than it does second basemen and Espinosa might be the odd man out if they only choose two with Brandon Phillips likely to be voted in and Weeks being the best second baseman in the game so far this year.
For me, the answer is clear, Espinosa belongs. Whether he is the lone representative of the Nationals or not, he has had the 2nd best season of any NL second baseman and is a rare player to find that combines power, speed, and top of the line defense at a middle infield spot. He is officially on my All-Star roster for 2011.
-Jonathan C. Mitchell can be found writing about the Tampa Bay Rays at DRaysBay and you can follow him on twitter at @FigureFilbert
Filed under: Digging Deep - Analysis Tagged: | All-Star Game, Brandon Phillips, Danny Espinosa, Jordan Zimmerman, Kelly Johnson, Michael Morse, Rickie Weeks, Washington Nationals