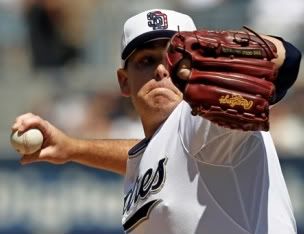 All-Star voting has been underway for over a month now and we are starting to see blogs make their personal All-Star selections. Voting does not allow for pitchers but the blog posts try their best to fill the entire roster while meeting the All-Star requirements of having one player from each team. One team that has been a tough one to choose from is the San Diego Padres.
I have seen Chase Headley, Mike Adams, and Heath Bell as the most often mentioned, and while they are all can make a case to be deserving of representing the Padres on the All-Star roster, I believe Tim Stauffer may be the best pick on the team, and it's not really that close.
The Padres' current leader in fWAR is Cameron Maybin with 2.1 but the All-Star ballot is full of more deserving out fielders. The Padre that is second on the team in fWAR is Tim Stauffer at 1.5, and according to rWAR the Padres' leader is Stauffer at 1.7 with Chris Denorfia coming in at second with 1.6 rWAR.
Yes, the starting pitcher depth in the NL is as deep as the outfield but I, for one, prefer to carry an extra starting pitcher or two over a reliever. Sure, Mike Adams is having an amazing season for a reliever with a 1.17 ERA in 30.2 innings and has been worth 0.9 fWAR and Heath Bell has a 2.79 ERA in 29 innings and has been worth 0.7 fWAR but Stauffer has a 3.28 ERA in 85 innings, almost three times the amount of the relievers, and do not give me the "Park Factor" reason for his success.
Stauffer's FIP sits at 3.11 and his xFIP at 3.15, indicating that he has actually pitched better than the 3.28 ERA indicates. His .315 BABIP is the 10th highest in the National League, indicating a bit of bad luck has found him. Stauffer's 53.8% groundball rate is 7th best in the National League and his 2.27 GB/FB ratio is 5th best in the National League. Stauffer does not just get groundballs; he also sports a healthy 7.20 K/9 and a low 2.44 BB/9.
Stauffer may not be an ace, or even a top 10 starting pitcher in the National League at the time I write this, but he is possibly the most deserving Padres to represent the team in the All-Star game and it's time we give the man some of the credit he is due.
-Jonathan C. Mitchell can be found writing about the Tampa Bay Rays at DRaysBay and you can follow him on twitter at @FigureFilbert
Filed under: Digging Deep - Analysis Tagged: | All-Star Game, Cameron Maybin, Chase Headley, Chris Denorfia, Heath Bell, Mike Adams, San Diego Padres, Tim Stauffer