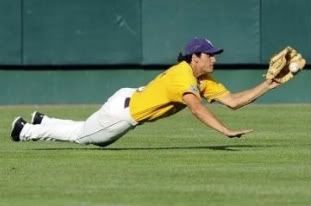 The Tampa Bay Rays had an unprecedented 10 picks before the second round even started. It's hard to go wrong when you can pick 10 times out of the first 60 picks, especially in a deep draft class like this. The Rays not only didn't go wrong but they drafted just right, mixing in upside, projectable players with high probability players. They stuck to their guns and took athletic players and pitchers with big arms. Here is a breakdown of each player the Rays selected:
Taylor Guerrier (RHP – HS, SC) – He has top-of-the-rotation stuff and was sitting mostly 91-95 this spring with some scouts having him as high as 97 at times. His curveball is already a plus pitch and he was a consensus top 2-3 high school arm in the draft. He lacks command and will need to develop a third pitch but the Rays have a proven track record of developing young arms and a deep enough system to allow him the time he needs to develop as a pitcher. He fell due to signability concerns and some makeup issues. The Rays, obviously, do not seem concerned enough with the issues and nabbed a top 15 overall talent with the 24th pick in the draft.
Mikie Mahtook (OF – LSU)- This is a player that most had going in the top 15 picks and the Rays landed him at 31. He is a legit 5-tool talent that reminds me a lot of Drew Stubbs but potential to be better. He will have no problems staying in centerfield and has All-Star ability to hit .300 with 20+ homers and steal 20+ bases in his prime. He has incredible makeup and has an "all-out" style of play that is loved by managers and fans alike. He should not be a hard sign and should move up the system fairly quick and reach the Majors in 2-3 years.
Jake Hager (SS – HS, NV) – This was sort of an odd pick for me. Most scouts believe he should go to college, making his signability a potential issue but without the huge upside of other picks the Rays made. He may have to move off of short to third but his arm is good enough to make the move. He projects as below average hitter right now but he has the tools to become a solid player in time. If he signs for cheap this is a good pick because the Rays can take their time developing him but if the Rays have to go "over slot" then I doubt they sign him. This was the only pick by the Rays that left me scratching my head but they do know a lot more than I do.
Brandon Martin (SS – HS, CA) – He has drawn unfair comparisons to Barry Larkin but he does have upside and will stay at shortstop in the pros. He has a compact stroke that limits power but should allow him to control the zone and hit for average. He is a very good runner and great athlete and in a draft that is a bit shallow on true up-the-middle talent (catcher, shortstop, center field) the Rays grabbed one of the better ones here.
Tyler Goeddel (3B/OF – HS, CA) – He is tall and lanky which always means he has a lot of projection left in him. When he fills out he might need to move to a corner outfield spot where most scouts believe his bat will still be above-average. He has the ability to hit for power and shows good balance at the plate. His draft stock rose this spring thanks to strong performances in showcases against some of the nation's best talent. He has a strong commitment to UCLA so he may be a tough sign but has enough upside potential for the Rays to make an "over slot" offer.
Jeff Ames (RHP – Lower Colombia College) – He is a big right-hander that has a starter pitcher's build and a mid-90s fastball that some say has reached 97 but lacks secondary stuff with a slider that occasionally flashes above-average but needs more consistency. This is his third time being drafted which is a sign that teams believe in his ability. At worst he is a power arm out of the bullpen.
Blake Snell (LHP – HS, WA) – He is a very projectable left-hander with a 6'4" frame. His fastball sits 87-91 but some scouts have clocked him in the 92-94 range but with little command. Once he fills out his frame (currently listed at only 180 pounds) he should add a few MPH to his fastball. He has a slow curve and a change-up with good arm action but both need to be improved upon. With seasoning and growth he has the ability to be a good #3 starter with a little more upside than that.
Kes Carter (OF – Western Kentucky) – He is an above-average runner and good athlete and scouts believe he has the ability to stay in center field in pro ball. He flashes star quality potential at times but projects more as a solid regular. He should be an easy sign and playing in pro ball shortly.
Grayson Garvin (LHP – Vanderbilt) – This is one of my favorite late round picks. Garvin is from Vanderbilt, which has a strong pitching background and where Rays ace David Price went to school. Garvin does not have a lot of projection left; he is probably what he currently looks like, a solid #4-5 starter who knows how to pitch and has shown signs of better stuff but will keep it dialed down to keep his command and control at bay. He, like Mahtook, should be a quick sign and move quickly through the system.
James Harrison (OF – HS, CA) – Continuing with the west coast high school draft trend, the Rays take Harrison with the last pick on day one. He is a superb athlete who is transitioning from basketball to baseball and is very raw. He has the athletic ability to play center field in pro ball but is a major project for the Rays great development program. He will need time to learn pitch recognition but has the overall tools to be a star although the probability is low.
This is the type of drafting that has made the Rays contenders in the cash-happy American League East with one of the lowest budgets in the game. R.J. Harrison is the best scouting director in the game and once the Rays are done with this draft they should boast the #1 overall farm system in the game. Don't forget, there are still 10 players in Keith Law's top 50 draft prospects still available including Oregon State catcher Andrew Susac who has a power bat and power arm, Josh Bell, one of the two best high school bats overall but has a strong commitment to Texas and a $6M bonus demand and lefty Daniel Norris who has a $3.9M bonus demand and the Rays are not afraid to take a gamble on these guys and try and work out a deal.
-Jonathan C. Mitchell can be found writing about the Tampa Bay Rays at DRaysBay and you can follow him on twitter at @FigureFilbert
Filed under: On the Farm - Prospects Tagged: | Andrew Susac, Blake Snell, Brandon Martin, Daniel Norris, Grayson Garvin, Jake Hager, James Harrison, Jeff Ames, Josh Bell, Kes Carter, Mikie Mahtook, MLB Draft, Tampa Bay Rays, Taylor Guerrier, Tyler Goeddel