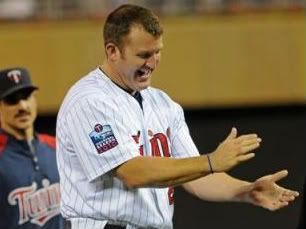 There is a lot of attention on Derek Jeter and his quest for 3000 hits. He currently sits at 2981 and needs just 19 hits to become only the 28th member of the 3000 hit club. The attention is warranted but what most people don't realize is that Jeter is, and has been, more than a slap-happy swinging batter, and became the 41st member of the 4000 Times on Base club last year. Also joining him last year was as the 42nd member was Manny Ramirez.
There was no press made when Alex Rodriguez became just the 43rd member of the exclusive 4000 Times on Base club back on May 18th against the Baltimore Orioles. But mark my words, there will be at least 6 months of press in 2013 when he is approaching 3000 hits.
This coming week we will more than likely see the newest member of the 4000 TOB club and most people won't pay attention because he has done it with "only" 2233 hits so far. That man's name is Jim Thome and he needs only to reach base 4 more times to join this exclusive club. Not far behind him we will see Chipper Jones join the club in the month of June, having to reach base only 16 times to be part of the exclusive club. Oh, Chipper Jones will be only the 4th switch hitter to join the club. Again, no major press will pick up on this.
This is pretty big news because looking down the line the next closest people to join this club are the 44 year old part-timer Omar Vizquel (116 more), the 37 year old Bobby Abreu (276 more), the 37 year old Johnny Damon (385 more), and the soon-to-be 38 year old Todd Helton (449 more). After that the next best possible member will be Albert Pujols who has reached base 2966 times. I find it hard to see Vizquel, Helton, and even Damon joining the club.
The 4000 Times on Base club may not be as exclusive as the 3000 hit club but it is still very exclusive. Every eligible member of the 4000 TOB club is in the Hall of Fame except Rusty Staub, and those with an asterisks next to their name: Pete Rose, Barry Bonds, and Rafael Palmeiro. Recent retirees such as Craig Biggio (one of only 17 player to reach base 4500 times), Gary Sheffield, Frank Thomas, and Ken Griffey Jr. all have HOF credentials. Now, I don't mind the hoopla that surrounds the 3000 hit club but some of it needs to go to the 4000 Time on Base club because they have been neglected far too long.
-Jonathan C. Mitchell can be found writing about the Tampa Bay Rays at DRaysBay and you can follow him on twitter at @FigureFilbert
Filed under: Digging Deep - Analysis Tagged: | 3000 Hit Club, 4000 Times on Base Club, Albert Pujols, Alex Rodriguez, Baltimore Orioles, Barry Bonds, Bobby Abreu, Chipper Jones, Craig Biggio, Derek Jeter, Frank Thomas, Gary Sheffield, Hall of Fame, Jim Thome, Johnny Damon, Ken Griffey Jr., Manny Ramirez, Omar Vizquel, Pete Rose, Rafael Palmeiro, Rusty Staub, Todd Helton