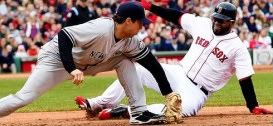 I was so excited to see that Fangraphs has added UBR (Ultimate Base Running) to the site and more importantly to fWAR. I have been longing for a value stat like WAR to add base running. It already has offense, defense, and positional adjustments; it was missing base running. fWAR is evolving into an even better stat and carrying more weight than almost any other metric out there.
The new addition will change most player's seasonal fWAR totals and career totals but, as David Appleman mentions in the article, it won't be more than 0.4 in any particular season and no more than 1.3 for a career. Oh, the stat is only from 2002 to current so it will not affect some of our all-time favorites. It is also listed as BSR in the player and leaderboard pages. Here are a few notes from some of the player pages:
**Since it's inception in 2002 the worst base runners in the league are: Paul Konerko (-44.2), David Ortiz (-40.5), Jim Thome (-33.9), and Pat Burrell (-30.6).
**The best base runners have been: Juan Pierre (43.6), Chone Figgins (41.7), Jimmy Rollins (33.6), and Carlos Beltran (30.5).
**I am not sure how good of a base runner Babe Ruth was but I have to imagine Barry Bonds was a better one and that the fWAR totals could inch closer to each other. I would also like to see how much value it adds to greats like Ty Cobb, Willie Mays, Joe Dimaggio, and Honus Wagner.
**Carlos Lee is an even worse player than we thought. He has a career -20.1 BSR and has not posted a positive BSR number since 2004.
**Carl Crawford's value rises even more with a career 20.3 BSR but surprisingly has a -0.7 BSR this season.
**What doesn't Jose Bautista do well this year? He hits, fields, and apparently runs the bases well with a 1.9 BSR.
**The versatile Ben Zobrist proves to add more value with a 7.4 BSR since he became a starter in 2009.
**Nate McLouth and Alex Rios lead the league with a 2.8 BSR followed by Melky Cabrera who has a 2.7 BSR but had a -2.9 coming into the season.
**Albert Pujols is the 11th best base runner since the inception of UBR/BSR with a 20.7. The next closest first baseman is the retired Shea Hillenbrand at 6.2 then Aubrey Huff at 1.1 and Derrek Lee at 0.8. Every other current first baseman with at least 750 plate appearances is at zero or in the negative.
**Jhonny Peralta is the worst middle infielder since it's inception with a -13.2. Jose Lopez is next with a -9.0 followed by Jeff Kent at -7.6 and Miguel Tejada at -2.5
**This will hurt players like Edgar Martinez who have a get-him-in-the-hall following. He was -17.0 in just three seasons of data and I cannot imagine him being anything better than a -30 for his career.
For more just head on over to Fangrpahs.com and go to Leaders and sort by BSR. Have fun!
-Jonathan C. Mitchell can be found writing about the Tampa Bay Rays at DRaysBay and you can follow him on twitter at @FigureFilbert
Filed under: Digging Deep - Analysis Tagged: | Albert Pujols, Alex Rios, Aubrey Huff, Ben Zobrist, Carl Crawford, Carlos Beltran, Carlos Lee, Chone Figgins, David Ortiz, Derrek Lee, Edgar Martinez, Honus Wagner, Jeff Kent, Jhonny Peralta, Jim Thome, Jimmy Rollins, Joe Dimaggio, Jose Bautista, Jose Lopez, Juan Pierre, Melky Cabrera, Miguel Tejada, Nate McLouth, Pat Burrell, Paul Konerko, Sabermetrics, Shea Hillenbrand, Ty Cobb, Willie Mays