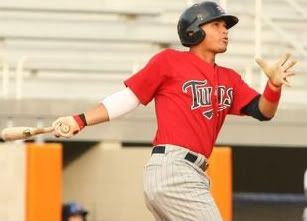 If you took a good look at most of the top prospect reports that came out this year you would have noticed that just about every single one failed to put Oswaldo Arcia on their list. In fact, the only two, other than my mine, that included Arcia were ESPN and AOL. Baseball America, Baseball Prospectus, MLB.com, and Project Prospect all excluded him from their top 100.
John Sickels dropped his B grade to a B- in January. Baseball America only rated Arcia as the #9 prospect on the Twins and he did not land a top tool on their Best Tools list. I don't know what their reasoning was for the downgrade and low rating but I do know that Arcia doesn't turn 20 until next week but is already in A-ball at the age of 19, and not just holding his own but tearing the league apart.
Arcia, a switch-hitter, got his start in the Dominican Summer League in 2008 at the age of 17 and hit .293/.343/.432 over 248 plate appearances. He then went on to play in Rookie Ball at the age of 18 and hit .275/.337/.455 over 187 PAs. The average age in the Gulf Coast League in 2009 was 19.6 and the average triple-slash line was .238/.316/.335.
In 2010 the Twins decided to have Arcia repeat Rookie Ball but in the Appalachian League this time, which is not a stretch since the average age in 2010 was 20.8 years of age. Arcia was the youngest player on his team but led a team that hit a combined .266/.323/.419 by hitting .375/.424/.672 with 21 doubles, 7 triples, and 14 homeruns over a league high 283 PAs. Oh, the league average was .258/.322/.384. The only player to out-hit and out-slug Arcia was Philip Cerrato, a 22 year old who turned 23 in October and only had 137 PAs.
Arcia, more than holding his own in a league where the average player was two years older than him, made the jump to the Midwest League this year and, like I mentioned earlier, has not yet turned 20 years old. The average age has not been calculated yet but there are 24-26 year olds in this league. Through his first 81 PAs he is hitting a robust .352/.420/.704 in a league that averages .247/.326/.368. His slugging percentage is nearly double the league average. He has 8 doubles, a triple, and 5 homeruns so far this year and his 11.1% walk rate is insanely good for such a young player in a league with much older players.
As you can see, the hit tool is there. Arcia, who did have knee problems early in his career, is still an above-average runner and can handle center field until he outgrows it, but with Aaron Hicks being the center fielder of the future Arcia has seen himself play 60 of his last 104 games (in the field) in right field, where his arm is strong enough to play.
If Arcia keeps playing to this level he may find himself in my top 25 prospects next year after debuting at #92 this year and all those expert prospect lists that neglected him this past year will without a doubt debut him on theirs this winter.
-Jonathan C. Mitchell can be found writing about the Tampa Bay Rays at DRaysBay and you can follow him on twitter at @FigureFilbert
Filed under: On the Farm - Prospects Tagged: | Aaron Hicks, Oswaldo Arcia, Philip Cerrato, Prospects, Twins