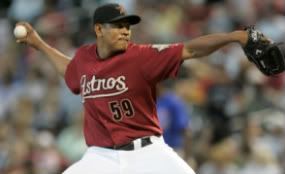 The Houston Astros are starting the season with Brandon Lyon as their closer, and why not. I mean, he does have 74 career saves and is an established closer, blah blah blah…
In case you do not know my thoughts on the closer role here it is: I hate it! I hate inning roles given to pitchers. Simply put, the best reliever should face the best hitters in close games whether it be the 8th or 9th inning. Now, I am not saying Brandon Lyon is a bad reliever, he is not. But what I am saying is that he is not the best reliever on the team, Wilton Lopez is.
Lopez is relatively unknown outside of Houston. ESPN Fantasy leaguers own him in less than 1% of leagues (0.2% to be exact) compared to Lyon at 97.6%. Yes, Lyon does get the "save" stat right now but that could change when Houston is out of the race and trades him to a contender in need of a bullpen arm or if he falters. I will point out that while Lyon has posted an ERA under 4.00 four times in his career he has never had an xFIP under 4.06 and his K/9 has been above 6.0 only four times, once ever was it over 7.0. His FB/GB rate remains consistently around 1:1, hovering slightly above it and his K/BB struggles to stay above 2:1. Not a bad reliever but no where near what your ideal high-leverage reliever is.
Lopez, on the other hand, rose like a Phoenix from the ashes (ok, maybe that's a bit dramatic) to post some great numbers in his first full season in the Majors.
| | |
| --- | --- |
|  Stat |  Total |
|  ERA |  2.96 |
|  FIP |  2.59 |
|  xFIP |  2.85 |
|  ERA+ |  132 |
|  IP |  67.0 |
|  K/BB |  10.0 |
|  HR/9 |  0.54 |
|  GB% |  55.7 |
|  ERA- |  75 |
|  FIP- |  71 |
|  xFIP- |  66 |
|  fWAR |  1.3 |
|  rWAR |  1.2 |
Lopez allowed only 4 unintentional walks in 67 innings pitched all season. Wrap your brain around that for a second. Lopez carries with him a fastball that averages 92.3 mph, an above-average change-up and a slider. He does not overpower hitters but he locates the ball extremely well with good command and control and has enough velocity and a good repertoire that once he gets in front of a hitter (he threw 60% first pitch strikes) they have little chance of working a count and getting their pitch to hit.
It will be very difficult to replicate his 2010 season but Lopez is a guy that belongs on all Fantasy Leaguer's watch lists if not on your roster right now, especially if you need help in K/BB, Holds, and ERA.
Filed under: Digging Deep - Analysis, Fantasy Tagged: | Astros, Brandon Lyon, Wilton Lopez