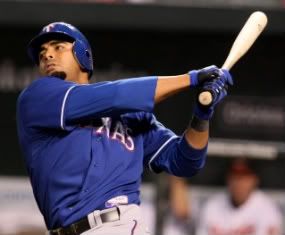 Who doesn't love predictions? I know I do. I love mocking people for their outrageous claims but even more, I love making outrageous claims… and ending up right about them. Will my predictions be right? Only time will tell, but they do factor into my drafting and reaching of fantasy players. Some predictions will be bolder than others, especially my prediction in tomorrow's post that says… well, you'll have to wait for that one.
Here is my list of players that I predict bold outcomes for:
Baltimore Orioles – Matt Wieters will hit better than .280/.350/.450 with 20 homers. Adam Jones will go 25/10 or better. Mark Reynolds will hit below .200 again. Brian Matusz will pitch 210+ innings of sub-3.50 ERA, with 175+ strikeouts.
Boston Red Sox – Adrian Gonzalez will set career highs in Home Runs, RBI, runs, AVG/OBP/SLG, and win the MVP. Carl Crawford will be even better offensive season than he had in 2010. Daniel Bard will save 15 or more games. Daisuke Matsuzaka will not be starting games for the Red Sox in by August.
Chicago White Sox – Big league pitchers will stop throwing strikes to Alexei Ramirez and he will still swing and post an OBP that barely cracks .300. Adam Dunn will set a career high in home runs. Jake Peavy will make 25 or more starts and post an ERA below 3.75 with a K/9 over 8.0.
Cleveland Indians – Carlos Santana will be the best offensive catcher in the majors, hitting .290/.390/.470 or better with more than 20 homers. Shin-Soo Choo will be a top 5 MVP candidate. No other position player will be worth 3.0 fWAR or more and Orlando Cabrera will be off the team by the end of July.
Detroit Tigers – Ramon Santiago will be more valuable than Jhonny Peralta. Austin Jackson will take a minor step back before breaking out in 2012 and will be outperformed offensively by Casper Wells. Ryan Raburn will do like everyone else is predicting and break out this year. Detroit pitchers will be infuriated with the defense on the right-side of the field.
Los Angeles Angels – Vernon Wells will revert back to his 2009 form when he hit .260/.311/.400. Peter Bourjos is currently owned in 3.3% of ESPN leagues and will be owned in over 70% of fantasy leagues by mid-year, finishing with 40+ steals and 10+ homers. Dan Haren will be the best pitcher on the team.
Kansas City Royals – Melky Cabrera will again contend for the worst player in the Majors award. Alex Gordon will hit 25+ homers and post an OBP above .350. No starting pitcher will be worth 2.5 fWAR or higher. Tim Collins will have 75+ strikeouts out of the pen with a sub-3 ERA.
Minnesota Twins – Nick Blackburn will again post a +5 ERA but still start 25+ games. Alexi Casilla will struggle to post a positive fWAR. Delmon Young will break the 3.0 fWAR barrier, improving on last year's performance. Jim Thome will again hit 25 homers and we will wonder why, again, he did not get 400+ plate appearances.
New York Yankees – Derek Jeter will have a bounce back season and hit at least .295/.365/.435 with 15 homers. Freddy Garcia will post a +5 ERA and not make it to 25 starts. Andruw Jones will hit 20+ homers and be worth 2.5 fWAR or higher. Jorge Posada will hit 15 or less homers and be worth 2.0 fWAR or less.
Seattle Mariners – I'm tired of seeing everyone predict Ichiro to bottom out this year. Ichiro will reach 200 hits, hit ovr .320 with 10+ homers and 40+ stolen bases. Miguel Olivo will fail to reach double-digit homers for the first time since 2005. Michael Pineda will be the 2nd most valuable starting pitcher. Brandon League will save 20+ games.
Tampa Bay Rays – Ben Zobrist will bounce back. Sean Rodriguez will gain shortstop eligibility and be a top 10 shortstop with at least 15 homers and 15 steals. Manny Ramirez hits .300/.400/.500 with 20+ homers. Dan Johnson will struggle to reach 400 PAs and the Rays will wish they signed Russell Branyan (his bold prediction tomorrow). Jeremy Hellickson will win 15 games with a sub-3.50 ERA and a K/BB of 4.0 or better. No pitcher will have 20 saves. It will be a true committee. For more of my Rays predictions click here.
Texas Rangers - Mike Napoli will retain catcher eligibility for next year and hit 30+ homers this year. Nelson Cruz will finish 3rd in MVP voting and hit at least .300/.370/.570 with 35+ homers with 25+ stolen bases and 10+ UZR. Elvis Andrus will hit 1 homer and fall outside the top-10 among fantasy shortstops. Derek Holland will win 12+ games and strike out 150+ with an ERA sub-4.00.
Toronto Blue Jays – The Jays 4th and 5th rotation spots will combine for an ERA over 5.00. Travis Snider will hit 25+ homers and post a +3.0 fWAR. Brett Cecil will be the best pitcher on the team. Aaron Hill will hit 30 homers.
-Jonathan C. Mitchell can be found writing about the Tampa Bay Rays at his other site Figure Filbert and on twitter at @FigureFilbert
Filed under: Fantasy Tagged: | A's, Aaron Hill, Adam Dunn, Adam Jones, Adrian Gonzalez, Alex Gordon, Alexei Ramirez, Alexi Casilla, Andruw Jones, Angels, Ben Zobrist, Blue Jays, Brandon League, Brett Cecil, Brian Matusz, Carl Crawford, Carlos Santana, Casper Wells, Daisuke Matsuzaka, Dan Haren, Dan Johnson, Daniel Bard, Delmon Young, Derek Holland, Derek Jeter, Elvis Andrus, Freddy Garcia, Ichiro Suzuki, Indians, Jake Peavy, Jeremy Hellickson, Jim Thome, Jorge Posada, Manny Ramirez, Mariners, Mark Reynolds, Matt Wieters, Melky Cabrera, Michael Pineda, Miguel Olivo, Mike Napoli, Nelson Cruz, Nick Blackburn, Orioles, Orlando Cabrera, Peter Bourjos, Rangers, Rays, Red Sox, Royals, Russell Branyan, Sean Rodriguez, Shin-Soo Choo, Tigers, Tim Collins, Travis Snider, Twins, Vernon Wells, White Sox, Yankees