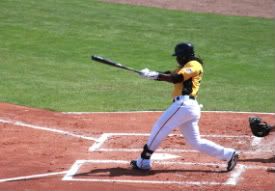 (Picture by Jonathan C. Mitchell)
-Not that this is news but Andrew McCutchen might be the best centerfielder in the game. McCutchen turned on a James Shields pitch in the first inning and hit a laser over the left field fence (the picture above is from that home run swing). In his second at-bat he hit a ball hard on the ground through the left side of the infield and stole second base, with ease, on the first pitch of the next at-bat. In his third at-bat he took a pitch on the outer-half to the opposite field gap, hitting the fence. He keeps his hands back and waits for the pitch to get deep and then explodes with great extension transfers his weight perfectly. The ball comes off his bat with a lot of backspin and a lot of speed. McCutchen could be an MVP candidate this year.
-Speaking of Shields, he only worked one inning and gave up that laser shot to McCutchen on a pitch he left up and in the middle half. Otherwise, he looked ok, getting ahead of hitters and getting robbed on a called third strike to leadoff hitter Jose Tabata. It just happened to be the one pitch he left up got hit out.
-Tabata did a good job of working counts from the one-hole but made a lot of weak contact and looked off balance with his swing. His speed wasn't as fast I thought it would be due to his high stolen base marks either.
-Pedro Alvarez looked a bit sluggish but it is early. He was out in front of pitches all day and looked to pull everything. He did show incredible power to right in BP, which is no surprise.
-Another guy that did well in BP was 24 year old Russ Canzler who hit 21 homers and 28 doubles in AA last year in the Cubs organization in only 355 at-bats. He has a lofty swing that also produced a lot of high fly balls and pop ups. His swing was fun to watch in BP but will drive a manager crazy in the Majors.
-Matt Joyce appeared to be working on an opposite field stroke in BP and didn't put on the show I expected, but I'm ok with that. I think he was trying to do the same in the game because he was getting pounded inside and looked like he was waiting for something on the outer half.
-My favorite player to watch, other than McCutchen, was Robinson Chirinos. He was hitting lasers all over BP and hit a pinch-hit bomb over the palm trees in left. He keeps his weight back very well and transfers it at the right moment, maximizing his power. I didn't get to see him behind the plate, though.
-Rays prospect Alex Torres got two innings of work in, showing a live fastball but not much command and had a problem putting hitters away. His delivery looks good, showing good balance and gets a lot of velocity from his legs and also keeps his head up the whole time, but his release point was inconsistent. He has some flaws that are workable and there is a lot to like about him.
-Neil Walker surprised me a little bit, both in a good way and in a bad way. He showed excellent patience and fouled off a few tough two-strike pitches to keep the at-bats alive. On the other hand his swing looked long for a guy with moderate power at best and he looked a little rough ranging to his right at second base. I hope he can stay at 2B because he a good chance to be a regular in the Majors for a while if he can.
-Desmond Jennings was very patient at the plate, showing a very good eye and laying off of borderline pitches that early in the at-bat. He also showed off his speed, swiping second base with ease and chased a deep ball hit by Walker in the right-center field gap for a nice running catch. On the other hand he showed little to no power in BP and also lost a routine flyball in the sun while wearing sunglasses.
-Corey Wimberly reminds me of Tony Womack with better patience. I hope he gets a shot to be a utility guy.
- PECOTA somehow has John Bowker as the highest valued player this year and if that wasn't a laugh in and of itself after watching him play it made me laugh even more. That is not a knock on Bowker, who belongs as a 4th outfielder and back-up first baseman but he has a very long swing with a major hole in it but he does have power and can play a passable corner.
-Justin Ruggiano looked bad at the plate, flailing at off-speed stuff down and away from starter Kevin Correia and showing little-to-no patience at the plate.
-Casey Kotchman is the same as always. He did go 2-2 but one was a groundball on a hit and run that left a hole and the other was basically a bloop single. His swing is geared towards contact and looks slow to the naked eye.
-I don't know what to make of Tim Beckham. He looked awful in warm-ups, booting roughly 20% of the routine balls hits to him. He lacked range to his right in the game, having to backhand a routine groundball that he should have been able to get in front of. He does have a very strong arm, though, and was able to gun the runner down in time for the out. At the plate and in BP he worked on hitting the ball up the middle and I like that approach. It worked in one at-bat when he hit a solid line drive up the middle for a single. His base running was atrocious, taking horrible routes around the bases and showing little awareness of where the ball was, hesitating on an easy call to go first-to-third and ending up just staying put at second. He also showed little awareness in the field. On a ball hit to his left he made a play and the runner from second broke to third, he "looked" over to third to make sure the runner wasn't going home but the runner never broke stride and went straight for home. Beckham threw to first as if the runner never broke for home. It was a lazy effort on his part assuming the runner would stop at third.
-Jonathan C. Mitchell can be found writing about the Tampa Bay Rays at his other site Figure Filbert and on twitter at @FigureFilbert
Filed under: Digging Deep - Analysis Tagged: | Alex Torres, Andrew McCutchen, Casey Kotchman, Corey Wimberly, Desmond Jennings, James Shields, John Bowker, Jose Tabata, Justin Ruggiano, Kevin Correia, Matt Joyce, Neil Walker, Pedro Alvarez, Pirates, Rays, Robinson Chirinos, Russ Canzler, Tim Beckham, Tony Womack