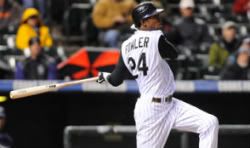 Colorado Rockies centerfielder Dexter Fowler is about to enter his 3rd full season in the Major Leagues. He will be a mere 25 years old Opening Day and will have over 1000 plate appearances and almost 2000 innings in the outfield to his name.
In his first two seasons he has shown moderate success posting a .263/.355/.408 slash-line, 1.9 rWAR, and 2.1 fWAR while never starting more than 105 games in the field. Fowler has a ton of speed but has yet learned how to turn it into great base-stealing (67.8% success) but is an excellent base-runner. Same goes for his defensive ability in center where he a career -18.5 UZR and -15 Rfield but that is not due to lack of range or speed but getting a bad read on a ball causing late jumps. These are things I believe Fowler will learn to overcome in short time.
In fact, most of his negative defense was from his first full season when he posted -16.2 UZR and -12 Rfield. Could be a fluke but I believe due to his athleticism and increased playing time that he is learning the game on the job.
Fowler shows a patient eye, walking in nearly 12% of his plate appearances, something not very common for a young player. He also makes a lot of hard contact and was tied for the 12th highest LD% in all of baseball at 21.6%. Fowler also saw sligth improvements in K% and ISO from 2009 to 2010.
After a horrendous May, Fowler was demoted to AAA where he hit .340/.435/.566 and returned to the Majors in July. From July to the end of the year Fowler hit .288/.369/.466 with 15 doubles, 11 triples, 5 homers, and 7 steals in 328 plate appearances, or almost exactly half of a season. Do I think he can post those numbers over an entire season? I actually do, but I have to be a bit more realistic than that. We would all love to project player's futures based on 2nd half production. If that were the case Adam LaRoche would be an All-Star every year.
With that, are my breakout projections for Fowler in 2011:
| | |
| --- | --- |
| Stat |  Total |
|  AVG |  .274 |
|  OBP |  .366 |
|  SLG |  .420 |
|  OPS |  .786 |
|  Plate App. |  625 |
|  At-Bats |  540 |
|  Hits |  148 |
|  Homeruns |  6 |
|  Doubles |  31 |
|  Triples |  15 |
|  BB |  79 |
|  SO |  146 |
|  SB |  29 |
|  UZR |  +0 |
That might not equal a full-blown breakout but that type of season is worth 3.0-3.5 fWAR and for a 25 year old that has never posted above a 1.7 fWAR I will gladly call that a breakout, especially since he has much more room to eclipse those projected numbers. I wouldn't be shocked if he posted a 5 fWAR season with improved defense.
-Jonathan C. Mitchell can be found writing about the Tampa Bay Rays at his other site Figure Filbert and on twitter at @FigureFilbert
Filed under: Digging Deep - Analysis Tagged: | Adam LaRoche, Dexter Fowler, Rockies